Bespoke Framing Specialist
Welcome to Barbara Watt Framing
Here at Barbara Watt Framing, you will find a professional, bespoke framing service in a relaxed and friendly atmosphere. I am a Fine Art Trade Guild Certified Framer and offer a free estimate service when you bring along your item for framing, and will always advise you on the best way to have it framed. I stock a wide range of quality, wood frame styles to suit all tastes and budgets and if I do not have it in stock, I can probably get it for you. I can also supply a large selection of fine art prints at very reasonable prices, either framed or unframed. I can frame just about anything from sports memorabilia and embroidery to oil paintings, and everything in between!
I am passionate about presenting your item, whatever it is, to look its best and preserving it for years to come for your enjoyment. If conservation framing is required, I am able to provide this service for you. I look forward to assisting you with all your framing needs. Don't hesitate to give me a call to discuss your requirements.
Benefits of choosing Barbara Watt Framing:


Relaxed & friendly atmosphere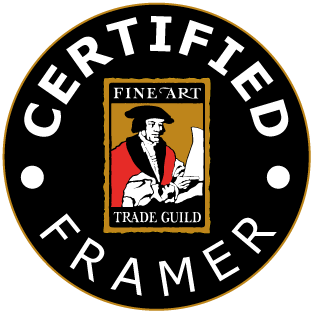 Guild Certified Framer
I am a Fine Art Trade Guild Certified Framer. This qualification is internationally recognised and includes continuing professional development to ensure framers stay up to date with best practise and standards.
As a GCF I am continually conscious of the care and conservation of customers' artwork and can ensure that items remain in optimum condition. All frames are structurally sound, blemish-free and exhibit care and attention to detail.
Quality Framing Services
If you are looking for a bespoke framing specialist, your search ends at Barbara Watt Framing.  Here you will find the complete framing service in Airdrie, Lanarkshire. My prices are very competitive and if you have not had anything professionally framed before, you could find that it costs less than you might expect for quality framing.
It's better framed
I can frame paintings, drawings, photographs, certificates, needlework, items of memorabilia e.g. signed football shirts, medals, concert tickets, album covers, wedding and baby keepsakes, etc.
Almost anything can be framed, so give me a call today. I love a challenge!